Global Cider Connect (GCC) is an initiative to promote cider and cider tourism in Japan that is sponsored by the Southern Nagano Cider Tourism Bureau and coordinated by inCiderJapan along with the NPO International Apple & Cidre Association. Conceived in 2019 and officially launched in October of 2020, GCC is working towards becoming a world-first six-nation cider collaboration. While Covid-19 has severely limited GCC's progress, the project is ongoing.
Southern Nagano in Nagano Prefecture is home to the Ina River Valley, famous for the cherry blossoms, the 2600-meter Senjojiki curl, and the Komagatake Ropeway. It is also arguably the cider capital of Japan, with over 80 active independent cider makers. Southern Nagano works hard to preserve its well-established traditional crafts and performing arts including Kuroda puppetry and local Noh productions. The Central and Southern Alps are the backbone of the area, inspiring visitors with its naturalism and indigenous cuisine.
THE GCC TEAMS
GCC 2020 participants represent six countries: Australia, Denmark, Japan, Norway, Spain, and the United States.
VinVie Winery & Cidery
&
Willie Smith's Cider Makers
Head Cidermaker: Tsuyoshi Takemura
Cider and wine maker using apples and grapes grown in their own orchard and vineyard. Tsuyoshi makes cider and wine that reflect the climate of Southern Nagano. His goal is to create pleasant ciders and wines for daily drinking that make everyone happy. The company started cidermaking in 2020 and pursues a variety of ways and tastes to enjoy, from standard dry to flavored types, using various apples produced in-house.
Head Cidermaker: Thomas New
Willie Smith 's Cider Makers is located in Tasmania, Australia, formerly known as the Apple Isle. Using organically grown apples in their own field of about 47ha, they produce some 500㎘ of cider annually, although cider is still a minor drink in Australia. Head cidermaker, Thomas is a big fan of Japan.
Made like wine, to be enjoyed like beer.
~Early Summer Pet Nat Cider~
Coming soon
Kikusui Brewing Co.
&
Zapiain Sagardoa
Head Cidermaker: Toru Takada, General Manager of Sales: Takaichi Goto
Kikusui Brewery is the only sake brewery in the Shimoina area of Minami Shinshu and produces sake, shochu, wine, and liqueur. They began cidermaking in 2016 and is one of the breweries that laid the foundation for Southern Nagano Cider. Using multiple apple varieties from contracted local orchards, they create cider using various methods.
Head Cidermaker: Ion Zapiain
Zapiain has been a family-owned apple orchard since the 16th century in the gastronomic area of the Basque region in Spain. Their cidery opened in the 1960s, and "sidra" (cider) has been a key to the expansion of their business. Zapiain's Sidra is exported to Japan and is available for purchase online.
Theme: Food Pairing
~Cider that pairs well with meat dishes~
Coming Soon
Head Cidermaker: Kohei Irikura
Kohei Irikura, moved from Tokyo to Ina City and founded Kamoshika Cidery in 2016. Chemical analysis and numerical values are important in his cidermaking and as a result, he has won numerous cider contests and is known for high quality cider production. While using dessert apples produced by local farmers, he also grows his own apples high in acidity and aroma.
Head Cidermaker: Olav Bleie
Alde Sider is located in Hardanger, Norway, near the Arctic Circle, and uses apples grown in orchards overlooking the fjords. Head Cidermaker, Olav, took over the family farm in 2009. Since 2015, he has dedicated himself to making and selling cider. He is steadily increasing the number of customers and expanding their business.
Two analysts approaching cidermaking from science.
~Cider made by comparing and analyzing data~
Coming Soon
Kaneshige Farm & Cidery
&
Blake's Hard Cider
Head Cidermaker: Hayato Sakurai
Kaneshige Farm was founded in 1974 after its owners spent a year training at an apple farm in Oregon, USA. In addition to their 1.5ha of apple production, they grow various fruits such as peaches, pears, and Ichida persimmons. Cidermaking for them began in 2016 which is when they started to use the name Farm & Cidery Kaneshige. New challenges will continue, as they expand their business to making craft beer and facilitating a campsite.
Matt Wiles & Troy Deneen
Founded in 2013, Blake 's Hard Cider Co. is a cidery in Michigan, United States. Their annual production exceeds 5,000 ㎘ and they continue to grow. Many of their ciders are unique with the use of fruit and spices. They not only aim to provide an array of tastes but also suggest ways in which drinkers can enjoy cider in various scenes.
Theme: Overcoming differences in distance, scale, and culture.
~ 6,000 Miles ~
Coming Soon
Head Cidermaker: Kan Iguchi
Marukame Cidery was launched in 2019 by Fruit Garden Kitazawa, a fourth-generation orchard in Matsukawa Town. The cidermaking part of their family business is operated by two brothers, Tsuyoshi Kitazawa and Kan Iguchi. They aim to create ciders that convey the freshness of the apples from their orchard. The apples are harvested one by one by hand, washed carefully, all damaged parts removed, and cidermaking is done with careful quality control.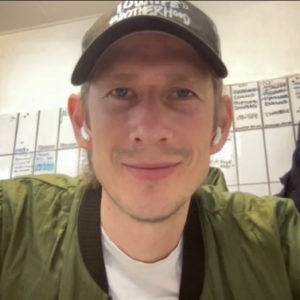 Head Cidermaker: Morten Sylvester-Noer
Æblerov, a cidery in Copenhagen, the capital of Denmark, leaves everything up to nature. Head Cidermaker Morten says that the harvested apples are not washed, but crushed and squeezed. Not only does he not use antioxidants, he also does not add any sugar or yeast, choosing instead to ferment with wild yeast on the surface of the apple. His ciders, which have a complex taste due to its natural construction, are popular in fine Danish restaurants.
Theme: Incorporating and utilizing new techniques
~ Technique Exchange ~
Coming Soon
LINKS, UPDATES, AND INFORMATION
2020-11-12: Announcement Press Release in SPIRITED
2020-12: GCC Report 2020 (Japanese only)
FY2020 Nagano Prefecture Regional Revitalization Support Fund Adoption Project
FY2021 Nagano Prefecture Regional Revitalization Support Fund Adoption Project
TIMELINE
2019 Initial idea conception and pitch
2020-10-23 Official launch and kick-off meeting
2020-11 First round three-way meetings
2020-12 Second round three-way meetings
2021-11 Third round three-way meetings
2022-02 Final round three-way meetings